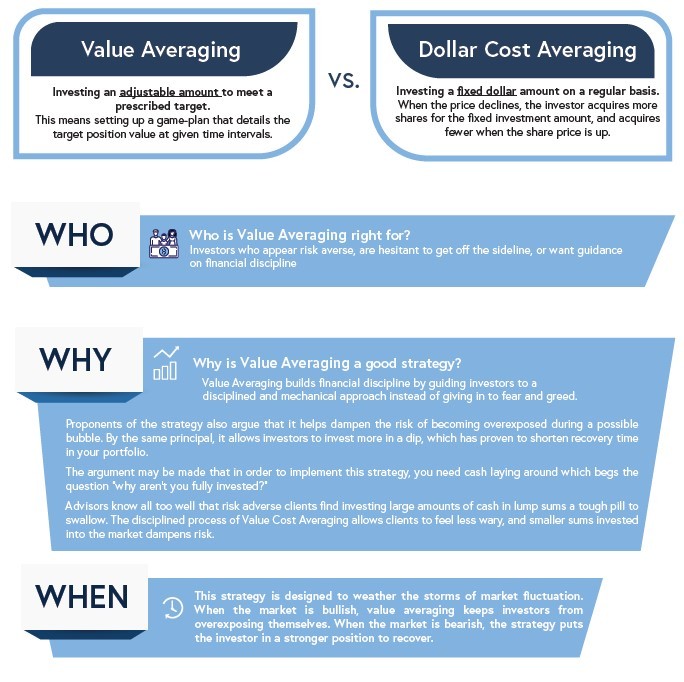 Example Value Averaging Investment Scenario:
The client wants to invest $120,000 but is unsure about their entry point. You recommend Value Averaging over the year, and explain to them the target is to have $10,000 invested in month one, $20,000 invested in month two, $30,000 invested in month three, so on and so forth….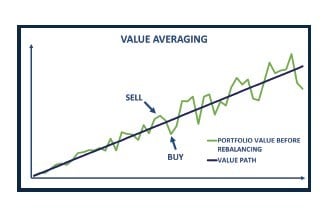 Content continues below advertisement
The client begins with $10,000 invested on January 1st, and in January the portfolio drops, leaving you with $9,000. Following the established Value Cost Averaging game-plan, the client would then invest $11,000 more on February 1st to bring the total position value to $20,000.
In February, the portfolio jumps, and now the client investment is worth $23,000. On March 1, you invest $7,000 so that you now have $30,000.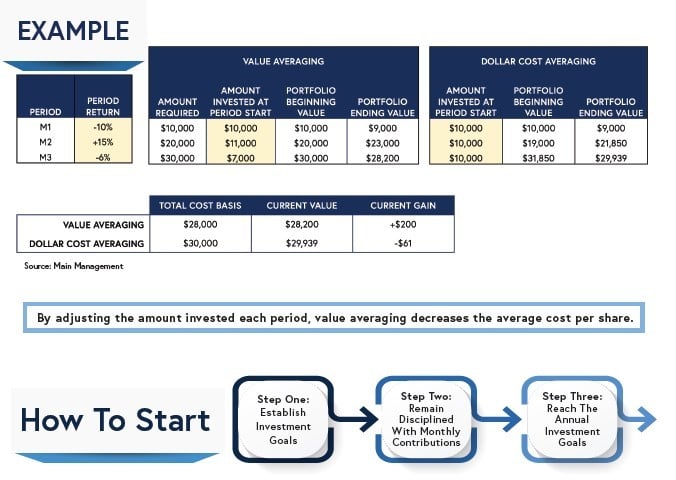 ADDITIONAL RESOURCES:
"Value Averaging: The Safe and Easy Strategy for Higher Investment Returns" By: Michael Edleson
https://www.managementstudyguide.com/value-averaging-method-of-investment.htm
https://www.investopedia.com/terms/v/value_averaging.asp
Main Management, LLC ("Main Management", or the "Firm") is an investment adviser registered under the Investment Advisers Act of 1940, as amended. The Firm was founded in 2002 and provides investment management services primarily to high net worth, family groups, foundations/endowments, and serves as a sub-adviser to third-party investment advisers & broker-dealers. The information contained herein was prepared using sources that the Firm believes are reliable, but the Firm does not guarantee its accuracy. The information reflects subjective judgments, assumptions and the Firm's opinion on the date made and may change without notice. The Firm is not obligated to update this information. Nothing herein should be construed as investment advice or a recommendation to purchase or sell securities.
The information is not intended as an offer to provide advisory services in any state or jurisdiction where such offer would not be permitted under applicable registration requirements. All equity investing entails risk of loss. In preparing this material, Main Management has not taken into account the investment objectives, financial situation or particular needs of any individual investor. Many securities transactions are risky and are not suitable for all investors. All securities investments carry risk, including a risk of loss of principal. No part of this material may be copied in any form, by any means, or redistributed without the firm's prior written consent.
For more news, information, and analysis, visit the ETF Strategist Channel.
newETFs.io respects the hard work of others and gives all credit to the remarkable folks at ETFdb.com. This excerpt/article was pulled from their RSS feed; click here to view the original. Please note that on occasion, the RSS feed will not have the author. When this happens this site defaults the author to "News". Make no mistake, this excerpt/article was not created by newETFs.io, it was simply shared with you.