In this edition, Fee sat down with Rebecca Kniesel, the chief marketing officer at Jennison Associates LLC. The role of the chief marketing office (CMO) has evolved as companies digitally transform, embrace the power of brand, and lean into data-driven behavioral insights to drive client growth and satisfaction. No longer is the role merely "colors and fonts" or "clever copy." Today, a CMO sits at the intersection of most functions within an enterprise, with responsibilities that span pipe, business development, sales automation, and even community building. As a result, successful CMOs must embrace change while remaining close to both customer and product. 
In his new monthly column, "CMO Views," VettaFi's CMO Jon Fee connects with other CMOs to discuss how they drive success inside and outside their organizations, sharing perspectives on career, outlook, and motivation. 
Kniesel joined Jennison Associates in 2019 and is responsible for developing and executing a strategic marketing plan that positions Jennison and its investment strategies for success across channels and geographies. Prior to joining Jennison, she was the head of marketing for Voya Investment Management (formerly ING US Investment Management), the asset management subsidiary of Voya Financial. At Voya, Kniesel oversaw all aspects of Voya IM's marketing efforts, including marketing to institutional, intermediary, and retirement clients. Prior to her role at Voya IM, Kniesel held several roles at JPMorgan Asset Management and other top-tier organizations. She received a BA from Villanova University.
Jobs and Careers — From First Job to Dream Job 
Jon Fee: What do you think is the difference between a job and a career?
Rebecca Kniesel: A job is something you do because you have to… you need money, but you are not passionate about it or otherwise emotionally connected to it. A career ultimately becomes the person and the person becomes the career. You grow into it, and like any relationship, it has its ups and downs, but it's for the long term. You nurture it. You grow it. You love it. You are it. It is your passion. And when you love it, it's no longer work. There sure are frustrations at times, but when you love what you do at the core… the good outweighs the bad.
Jon Fee: Tell us a little about your first job?
Rebecca Kniesel: I was a lifeguard at Sesame Place at 16 years old! I worked hard to become a lifeguard, attending many classes and working in the pool on lifesaving drills. It's a pretty powerful way to learn responsibility. At a pretty young age, I realized that I could be a lifesaving force. It also taught me deep respect for mother nature and the power water can have.
Jon Fee: What about dream job? If you could pivot to a passion project as a dream job, what would it be?
Rebecca Kniesel: It would be combining my love of nature with my love of arts. I draw and practice calligraphy and am increasingly drawn to being in nature. I'd love to find a way to combine the two into a passion project or dream job.
Jon Fee: What was your first job in marketing?
Rebecca Kniesel: My first official marketing role was at J.P. Morgan Private Bank in 2000. I had worked in other capacities before that role… each building the foundation for my marketing career.
Jon Fee: What's something you learned from an earlier job you had outside of marketing that impacts your abilities as a marketer or your approach to your current job?
Rebecca Kniesel: One of my very first jobs was as an analyst in private equity. We were a placement agent selling third party funds, so I was part of the deal team who had to write the private placement memorandum. Not only did I learn the importance of understanding the unique elements of the fund we were launching (data/analytics to prove success and differentiation among our competitor set), I also learned the importance of telling the story both in written and visual form.
Jon Fee: The evolution of marketing is no small feat. Tell me about how marketing was defined when you first entered the field vs how you as a CMO define it today?
Rebecca Kniesel: I typically define marketing from my early years in the industry as "sales support." We existed to produce and maintain pitch materials at the request of sales and were very much in the backseat as a support function.
With the evolution of digital and the tremendous power data and analytics provides, marketing is very much in the front seat working hand in glove with our sales partners. It's why the value of the CMO and marketing has increased in the eyes of asset management recently… it's been quite refreshing to see.
Content continues below advertisement
Pets and Pet Peeves 
Jon Fee: Do you have pets?
Rebecca Kniesel: No pets. I have a 9 year old, and as a working mom, I just couldn't add a pet to the mix. I have plants, does that count?
Jon Fee: What about pet peeves? What annoys you the most in the workplace?
Rebecca Kniesel: I'm not sure what to call it… a lack of attention to detail to get the simple things right? My team knows that I can pick out a spelling error in a 5,000 word piece. Getting the simplest things wrong will call your entire thought leadership piece or RFP into question. The smallest details matter, and my team knows I'm a stickler for that kind of stuff.
Leadership
Jon Fee: What daily habits or weekly routines do you have that keep you sharp as a leader and evolving as a marketer?
Rebecca Kniesel: I do a lot of competitor reading just to get a sense of market trends — and not just in our industry space. I think there is a lot to learn from the consumer space when it comes to marketing trends. I do a lot of reading to understand what others are doing and how they are doing it. Outside of that, I enjoy getting outside in nature, exercising and being active to keep my mind sharp. I also find that exercising my right brain and left brain through art helps to keep myself sharp and firing on all cylinders.
Jon Fee: What's the one thing you can point to (a book, an experience, a person) that has played the greatest role in shaping your leadership style?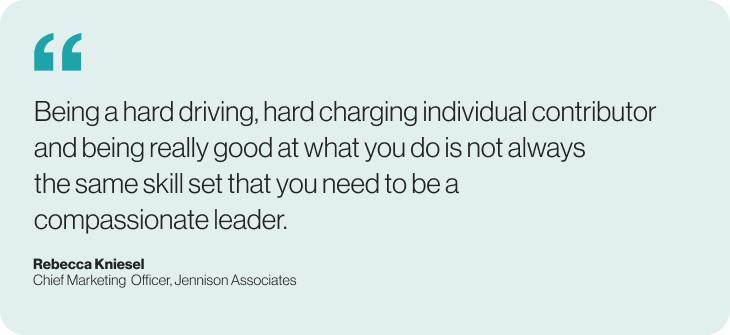 Rebecca Kniesel: I would say there's a book and there's a person.
The book is called What Got You Here Won't Get You There. The skills needed to be a strong, independent contributor are not the same skills that you need as a leader.
Being a hard driving, hard charging individual contributor and being really good at what you do is not always the same skill set that you need to be a compassionate leader. I see that in a lot in people making the shift into a leadership role. I certainly had to learn a different set of skills as I moved into management-level roles.
The person that keeps me humble and grounded is my son. When he was born, my whole worldview shifted, and I think that really contributes to my ability to be a compassionate leader.
Jon Fee: Mentoring in marketing is particularly unique because of how fast the space evolves. Who is the mentor who got you to where you are today? Tell us a little about who you're mentoring.
Rebecca Kniesel: She was my first manager at J.P. Morgan Private Bank, in marketing. It was an unofficial mentorship, but I learned more from her than anyone else in my entire career. She was just an incredible leader who really worked with her team to develop us into strong marketers and helped us all understand the power of a story. When I'm thinking through complex situations, I still think about her and what would she do.
I think both the giving and receiving in mentorship is profound. As a mentor, I take that responsibility seriously. And for someone to mentor me, I take that equally seriously, as I never want to waste their time. I believe we can always keep learning in our careers. Having mentors later in your career is just as important as having a mentor earlier in your career as well.
Digital Transformation
Jon Fee: Define digital transformation without using the words "digital" or "transformation."
Rebecca Kniesel: There is nothing greater that has upended our world, from personal interaction to purchasing behavior to banking transactions. It has completely changed how we live and work and transact.
When I think about it, it's such a powerful tool, both positive and negative.
I think about that a lot personally. How do I use this powerful tool to help better my life and not detract from it? But it's so powerful that it often will overtake people and not always in positive ways… if that makes sense.
Jon Fee: Yeah, especially in this age of AI and stuff like that, people need to be thinking about how the tools we use, no matter how useful they are, how they could be impacting society and changing things. I'm totally with you on that.
Rebecca Kniesel: On that point, what better area could ChatGPT be so transformative [for] than marketing? Right? How could we use ChatGPT to write RFP responses or to help generate thought leadership? It could be a real productivity gain, but what are you giving up at the same time?
If you're increasing your productivity, could you be giving up some personalization or a way of reaching your intended target in a more significant way? I just think we have to be really careful about using the technology to its greatest extent but be aware that there's a tipping point into the dangerous side as well.
Jon Fee: I think about the story of the Luddites. For such a long time, the term "Luddite" has been an insult. But when you learn the actual story of who they were, it turns out they were entirely right. Their concerns and predictions were correct.
 Rebecca Kniesel: Yeah, exactly!
Giving Back 
Jon Fee: Tell me about your volunteerism and giving back to make a greater impact?
Rebecca Kniesel: Giving back in some way is important to me… either through time or financially. I try to do both, although time is more limited for me now. I used to be on the board of directors for a nonprofit, I did a lot of volunteer work, actually, in a women's prison many years ago, and I'm still interested in that space. But the time commitment, especially as a full-time working mom, doesn't align right now.
We're planning a day of service or some activity to give back at Jennison Associates. Days of service had taken a pause during the pandemic, but I'm looking forward to giving back more fully now that things have normalized again.
Crystal Ball 
Jon Fee: Tell me about your predictions for marketing and marketers? What's coming next? How do we prepare?
Rebecca Kniesel: I think it's what we were talking about before. I think ChatGPT holds a lot of potential for marketing teams. How we choose to engage and use it and the power it could hold for marketers.
Parting Gift
Jon Fee: Can you share with us an album, book, movie, TV series, or other creative work that brings you joy right now? What is it about this creative work that fires you up?
 Rebecca Kniesel: There are a number of master penmen/women that I follow on Instagram. They are calligraphers using nib and ink for calligraphic writing and artwork. It's my mental escape where I scroll through their Instagram and look at their work.
And I feel like, with technology like ChatGPT, with all of this spiraling so quickly into the future, it helps to step back in time. These master penmen/women are practicing the style of writing that were the precursors to our modern-day cursive writing.
They call it a copperplate script because they would craft these letter forms on copper plates and would print their newspapers from the copper plates. It provides an opportunity to go really old school in writing, crafting letterforms and artwork. So, it's kind of my return to old school!
 Jon Fee: That's excellent. That's a great parting gift!
For more news, information, and analysis, visit VettaFi | ETFDB.
newETFs.io respects the hard work of others and gives all credit to the remarkable folks at ETFdb.com. This excerpt/article was pulled from their RSS feed; click here to view the original. Please note that on occasion, the RSS feed will not have the author. When this happens this site defaults the author to "News". Make no mistake, this excerpt/article was not created by newETFs.io, it was simply shared with you.